Introduction:
Planning to take an English proficiency test for your study abroad dreams but unsure about TOEFL and IELTS? You're not alone. Despite the widespread recommendation for IELTS, its cost and limited accessibility, especially in remote areas, can pose challenges. Delve into this guide to make an informed choice that suits your unique circumstances and ambitions.
Background and History:
To get better acquainted with these two tests, here's a quick history. The IELTS, born in 1980 through the collaboration of the University of Cambridge ESOL Examinations, the British Council, and IDP Education Australia, aimed to standardize English language testing for individuals aspiring to study or work in English-speaking countries. On the other hand, the TOEFL, introduced in 1964 by the Educational Testing Service (ETS), initially measured the English proficiency of international students entering American universities. Over time, the TOEFL has evolved into a globally accepted tool renowned for its comprehensive assessment of non-native English speakers' language skills.
Mastering the English language is crucial not only for academic success but also for everyday life in an English-speaking nation. Universities use these tests to ensure students can comprehend lectures, participate in discussions, and produce effective academic papers. Similarly, visa authorities demand this proof to confirm your ability to communicate and integrate seamlessly into your chosen study destination. English being the global language of academia and business, demonstrating your language skills is pivotal to unlocking endless opportunities during your international academic journey.
IELTS vs. IELTS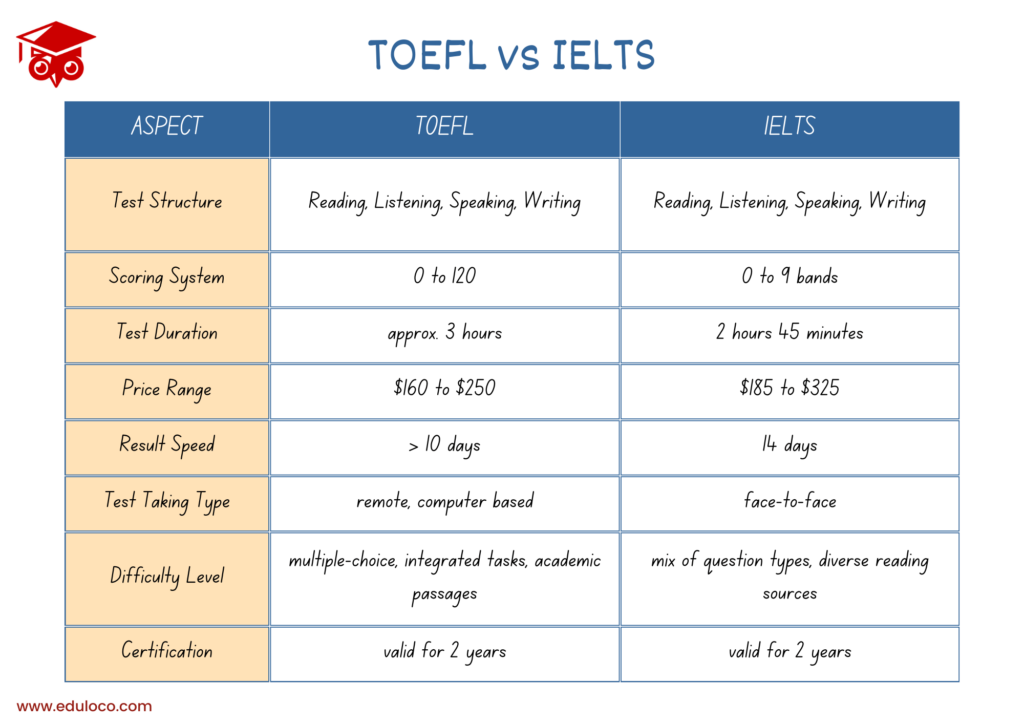 Test Structure and Content:
The TOEFL, a comprehensive computer-based test, evaluates your reading, listening, speaking, and writing abilities, preparing you for the academic demands you'll face during university studies. In contrast, the IELTS test includes listening, reading, writing, and a crucial face-to-face speaking component with an examiner, focusing on real-life communication skills necessary for both academic and general contexts. Understanding the unique structure of each test can guide you in selecting the one that aligns best with your learning style and preferences.
Scoring System and Duration:
The TOEFL scoring ranges from 0 to 120, providing a detailed assessment of your language proficiency in each section, with a typical test duration of around 3 hours. In comparison, the IELTS scoring system utilizes a 0 to 9 bands scale, offering a holistic evaluation of your English language skills, with a test duration ranging from 2 hours 45 minutes to 3 hours. Exploring the nuances of the scoring system and duration can help you understand the significance of each test score and plan your preparation strategy accordingly.
Price Range and Result Speed:
Consider the financial aspect when choosing your test. TOEFL costs vary between $160 and $250, depending on the testing center and location, while IELTS typically falls within the $185 to $325 range. Also, keep in mind the result speed, as prompt score reporting is crucial for meeting application deadlines. The TOEFL usually provides results within 10 days, while the TOEFL iBT Home Edition offers even faster results, usually within 6-10 days. Comparatively, IELTS results are typically available within 13 days. Keeping these factors in mind will help you manage your budget and time efficiently during the application process.
Test Taking Preference and Difficulty Level:
Understanding your test-taking preferences and the perceived difficulty level of each test is vital in making an informed decision. The TOEFL's computer-based format suits individuals who prefer a structured, self-paced testing environment and are comfortable with digital interfaces. In contrast, the IELTS's face-to-face speaking test may appeal to those who value interpersonal communication and wish to showcase their language skills directly to an examiner. The perceived difficulty level may vary based on your comfort with question formats, time management skills, and familiarity with diverse English accents. Considering these aspects can guide you in choosing the test that aligns with your strengths and preferences.
Certification Duration:
Both TOEFL and IELTS certifications remain valid for two years. When planning your study abroad journey, ensure your test scores remain valid throughout the application process. If your scores are no longer valid, you may need to retake the test to provide updated results that meet the current admission requirements.
Conclusion:
While TOEFL and IELTS share similarities, it's crucial to consider accessibility and cost-effectiveness. Always check your university's specific requirements before making a decision. Streamline your application process by confirming the accepted test. If you're still unsure, our counselors can guide you. Contact us via email at [email protected] or through WhatsApp by clicking here.